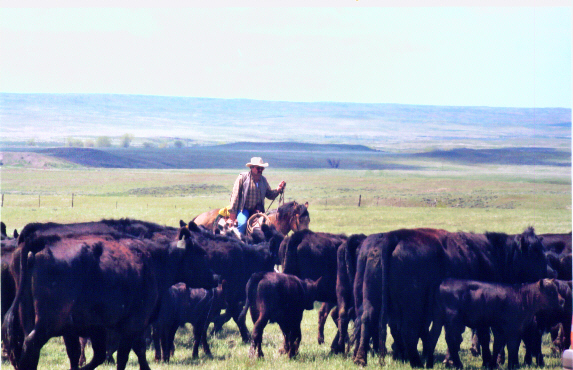 We have been in the ranching business our whole life raising cattle and horses. Mary grew up on a ranch near Faith SD where she ,5 siblings and their parents Albert and Leone Bachman worked the ranch with cattle , sheep and horses . Chuck grew up near Spearfish SD and ranched with his 2 brothers and parents Vince and Margaret Crago. Raising cattle, sheep and horses. Both of us have rodeo'd through the years and still enjoy showing our horses. We enjoyed the ranch life and country living being able to use our horses to work the cattle operation and raise a family of 4 in that way of life. We have been married 26 years.
Chuck and Mary split off from the Crago partnership of his 2 brothers and his mom and dad in 1990. We moved from Spearfish SD to a ranch at our present location 18 miles north of Belle Fourche along Indian Creek and continued in the cattle business and quarter horse production operation.
We are running 350 spring calving cows and 100 fall calving cows. It spreads the work load out and they both have their advantage. It helps us utilize the best bulls by using them for both seasons. We are mainly raising black and black white face cows with just a few red angus mixed in. Chuck likes the #1250 to #1350 cows with fertility and mothering ability that have good udders and most of all easy fleshing traits that can wean a big calf. He has used exotic bulls over the years and you might wean a little bigger calf, but probably have more death loss and no replacements to keep. Some exotic cross cows work good but just seem to winter tougher here where we are located in our South Dakota environment. In tough winters they just take too much feed.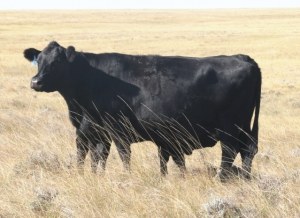 We vaccinate our cows with preg guard 10 and pour on Ivermectin in the fall when we pregnancy test. The calves get a 7 way and pasturella shot at branding and the same shots at preconditioning time in the fall while on the cow before weaning.
Now we use Angus bulls that are picked from weaning weight and maternal and carcass characteristics. Some of the bloodlines we like are Predestin, In Focus and 50-50. We usually feed 1-2 lbs of cake a day per cow and graze the middle aged cows. It takes about 35 acres per cow to graze year round.
The coming two's and older cows are run separate and Chuck feeds them more cake and hay if we have to. The Crago's are mainly a grass outfit with around 250-300 acres of native hay ground. Hay can be put up if it floods on the creek. We are always buying some hay for the winter for horses and cattle.
The fall calving cows usually calve better from August 25th to Oct 10th so it takes less labor. They winter tougher and take more feed but you sell more pounds of beef when we wean and sell them in July or August. It spreads out the the cash flow some also. It takes a lot of equity, cash flow and a super bank to get thru the tough years. Expenses are high so we mainly hire part time help. Right now we have a full time man that is riding colts and helping with all phases of the ranch jobs and he is working out really good for us.
The area we ranch had also been through years of drought conditions. Through the last 10 years it has been really challenging. We have had 6-8 terrible droughty years from 2000 on. We could grow some grass but had no water. We really relied on dams, but with no gully-washers or snow we didn't run any water. We started putting in pipelines and water tanks for our livestock with help of Equip -a Government program. Usually with all the bad comes some good. Rarely is there help for the ranchers. Most of all we are very thankful for the prices that 2011 has brought us and the abundant moisture we have received at the ranch and in South Dakota. We have had an outstanding year for moisture and our grass is still green the 1st of September which is never heard of in this country. Our normal rainfall is 10-13 inches a year. But the those 6-8 years about did us in. The last 3 winters have been tough and expensive and some calf crops in 2009 and 2010 were 10-20% below normal because of spring blizzards in March, April and May. We feel really bad for the southern states right now with the drought conditions and for the states with too much rain and dealing with the flooding. Do you sell or buy feed or move your livestock?? TOUGH DECISION!!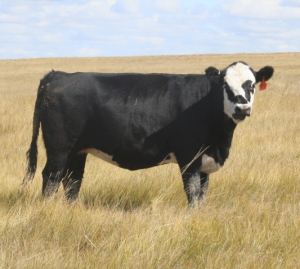 The Crago's usually sell some calves on the Western Satellite. We just feel it doesn't take much money to try, and if they don't bring what you want the calves are still in the pasture at the ranch. It just spreads out the risk for the timing in sales. The market can fluctuate so fast, just like this year the market was down $3 to $5 the day we sold fall calves at the sale barn. Chuck also like to use the Belle Fourche Livestock Exchange in our hometown of Belle Fourche, SD. They also do a good job for us. Blair Brothers who we buy bulls from is another outlet to sell to. Blairs a lot of times buys private from the ranch because they feed them out and it lets them and us know what we are getting done when we buy bulls and how they sire. When we buy bulls, studs or mares for our breeding program the very first thing to us is pedigree and proven record, then we look to conformation, but it has to be the whole package or we are not buying.
We rely on mother nature so much. Last year we had a super year till July 20th ,2010 then we hailed out one ranch and the grasshoppers took over. Our calves were 30# light. We also had to buy a lot more feed because we hailed out our winter country. We normally rely on it to graze unless the snow buries us up. As ranchers feel by rotating pastures and better water distribution we have helped our carrying capacity and gain on livestock. We are in really strong grass country. It is short but packs a punch making the cows and calves fat. We are probably a better summer country than winter, but we have some winter pastures that are really good. We hate wind but if we get a foot of snow in the winter without the wind to push it in the draws we bury our grass up and we are in trouble for grazing livestock. The snow in the draws creates water in our dams when the snow melts in the spring.
We trade help with 7-8 ranches at branding and shipping time which helps everyone out. It is always nice to go help the other ranchers and see what's working and what is not. Words of advice; Always keep your eyes and ears open because there might be a better method or more efficient way to do business in the ranching industry. The ranching business is a "GREAT WAY OF LIFE" but really has its ups and downs.