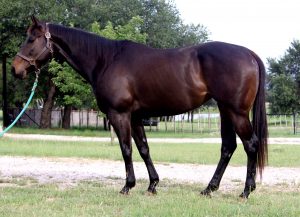 Full-sister to Brazilian standout Dash Bullyon, who has run 8, 16 Second Runs on a Standard Pattern in Brazil!
Sired by Crago Stallion, Platinum Bully!
1st Dam is Grade 2 Stakes Finalist and Barrel Futurity Money Earner, BF Featureattraction si 97 ($10,023), Full Sister to Casa Grande Futurity Reserve Champion, VGBRA Round Winner FAMOUS PROM QUEEN $26,000+, BF Feature That $5,500, and 3/4 Sister to Mister Two U $4,000+
-BF Featureattraction is the Dam of: Brazilian Standout Dash Bullyon (by Platinum Bully), & Barrel Money Earners CP Pepe Lapue and CP Livewire.
2nd Dam is Grade 3 Stakes Finalist Glass Feature si 88, Dam of Barrel Money Earners over $40,000 and sister to earners over $79,000!
3rd Dam is Grade 1 Stakes Winner Gentlemens Feature si 92 ($215,238), Dam of $79,000+ Granddam of $775,000+!
Dam of:
-Grade 3 Stakes Winner Gentlemen N Cash si 98 (Dam of Stakes Winner/Track Record Setter PERFECT TASK si 112, $50,495 & Canada Hi-Point Three-year-old filly STRAWFLYIN FITNESS si 109, $75,864)
-Featuring Beduino si 86, (Dam of Grade 1 Stakes Winner JESS A FEATURE, $373,382, NTR, & Featuring Magic Man si 103, $88,398)
Registered Name: CP Platinum Fergie
Breed: AQHA
Date of Birth: Mar/11/2010
Gender: Mare
Color: Brown
Bred To: Fire On Bug
CP Platinum Fergie
Platinum Bully
Bully Bullion si 104
Special Effort si 104
Mary Poppins si 95
Blue Array
Bold Array si 109
Iris Joe Pansy
BF Featureattraction si 97
Dash Ta Fame si 113
First Down Dash si 105
Sudden Fame si 98
Glass Feature si 88
Raise Your Glass (TB)
Gentlemens Feature si 92