Sired By CM Dynamite Frost:
-2010 Region 2 AQHA Senior Heading Champion & Senior Heeling Reserve Champion, 2009 AQHA Region 2 Senior Heading Reserve Champion & Heeling Reserve Champion    
-National Reined Cow Horse Money Earner 
CM Dynamite Frost has sired Barrel Racing earners over $100,000 Including CM Dynamite Shake $40,000+, CM Bubblin Dynamite $24,000+, Lil Frost Freckles, $23,000+, CM Dynamite Miss Tiv $23,000+, and more!
Out of Barrel Racing Money Earner, CM Bronsins Radar.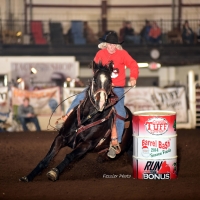 Half- Sister to John Henry (CM Nonstop Nitro X CM Bronsins Radar by PC Bronsin) Earnings $45,000+
-RFD-TV The American Semi Finals Qualifer
-Kansas NBHA Futurity Champion
-Odess, MO URA Rodeo Champion
-Topeka Barrel Bash Day 3 Champion (Fastest Time of the Weekend)
-Longford, KS PRCA Rodeo Champion
-2nd Place Round 2 Prairie Circuit Finals
-Columbia, MO Barrel Bash Sunday Champion (Fastest Time of the Weekend)
-Columbia, MO Barrel Bash Saturday 2nd place, Friday, 4th Place
-Lincoln, NE Barrel Bash 2nd Place Derby Round 2
-3rd Place Kansas City, MO WPRA Rodeo
-4th Place Wahoo, NE WPRA Rodeo, etc.
Half-sister to CM Nitros Slingshot (CM Nonstop Nitro X CM Bronsins Radar by PC Bronsin) Earnings $5000
-Diamonds and Dirt Amateur Futurity Finalist
-Hawki Futurity Consolation Round 5th Place
-Triangle Cross Futurity TC100 Incentive Champion
-Roper Rally Futurity TC100 Incentive Reserve Champion
Registered Name: CM Dynamite Sis
Breed: AHQHR
Date of Birth: Jul/24/2005
Gender: Mare
Color: Bay Roan
Bred To: CM Nonstop Nitro
Consignor: Chuck and Mary Crago
CM Dynamite Sis
CM Dynamite Frost
Doc O Dynamite
Doc O Lena
Gay Bar Dixie
Sierra Frost
Sun Frost
Miss Pansy Sue
CM Bronsins Radar
PC Bronsin
Sun Frost
Red Rockette